The healthcare landscape is one of western Massachusetts' greatest assets.
When we were approached to take on some creative work in support of JGS Lifecare, a leading health care system serving elders based in Longmeadow, it became clear to us early on that the region's healthcare community was about to get even more diverse.
JGS Lifecare had already rebranded itself, after several years as Jewish Geriatric Services, as part of its larger Project Transformation Initiative. The new messaging was quickly accompanied by a series of physical changes and improvements, however, and the organization was in need of new and innovative ways to introduce their evolving suite of services to a regional audience.
The developments included JGS Lifecare's newest offering – the Sosin Center for Rehabilitation, a short-stay physical rehab facility incorporating the Green House Project philosophy of care, and the first in western Massachusetts. Green House Project homes can be found across the country, and create care models that offer individual autonomy, which helps people thrive in comfortable spaces that feel like home.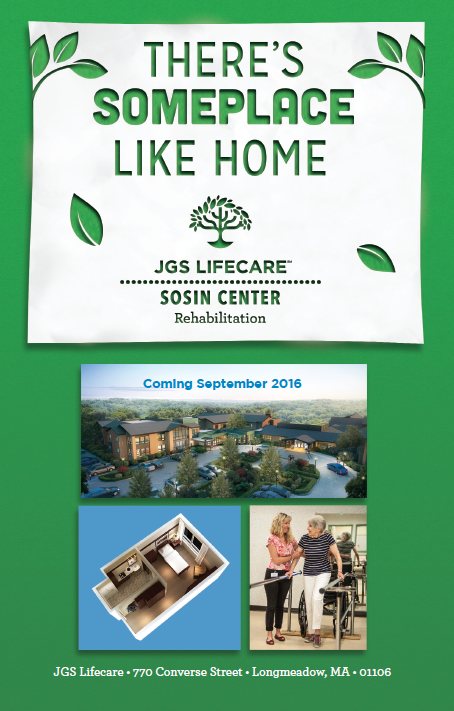 Armed with that information, we developed a tagline to tie what would become a wide-ranging campaign together: Someplace Like Home. From print collateral to digital media, billboards to television and beyond, this idea conveyed the message that while elders can't always heal at home following a surgery or injury, there is another option in the area; one that is as close to home as possible.
As construction moved forward on the Sosin Center, we highlighted some of the strengths of the entire JGS Lifecare community, and the added benefits the Sosin Center would bring. Drawing from a recent Medicare census, the list of collateral materials featured hard numbers that signaled success — and continued to grow exponentially.
We completed a series of brochures for use by referring healthcare facilities and patient liaisons, as well as fact sheets, infographics, invitations, advertorials, strategy graphs, and on-site room-sheets and maps, plus folders designed to hold all kinds of ever-evolving information.
The production of three television-ready commercials and a web-based informational video became the capstone of the campaign. In tandem with Working Pictures, Inc. of Albany, N.Y., we concepted, wrote, cast, staged, shot, and produced what went on to become 2017 ADDY nominated spots.
We continued with website updates that added developing information and introduced the Sosin Center as the newest part of the JGS Lifecare continuum of services, and a series of social media posts were crafted to further complement this steady stream of content.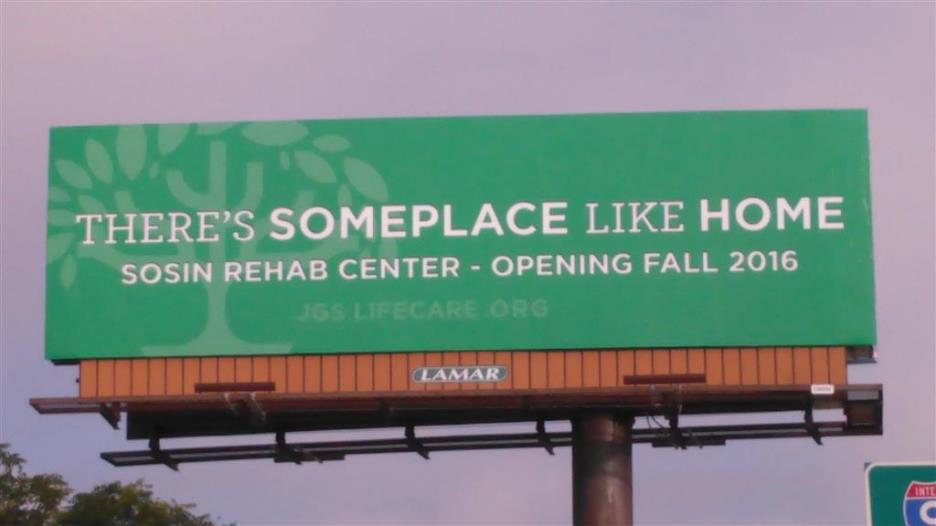 Two billboards (made to look like one) came next. The first teased the opening of the Sosin Center, while the next announced its arrival, using a torn-paper effect to create the illusion of a correction to the original billboard.
As the Sosin Center neared its grand opening date, our focus shifted to the new services it will bring to the region – specifically, its approach to healing. The facility opened in November 2016, and by December, had welcomed its first set of patients to 'someplace like home,' with the goal of returning them to their own homes as soon as possible.
To learn more about JGS Lifecare and The Sosin Center for Rehabilitation, visit their website.