The latest in a series of inspiration, exploration, and discovery from the Creatives at Winstanley Partners.
A couple of weeks ago, I headed out to Cohoes, N.Y., for a talk geared toward Emerging Designers.
Hosted by Upstate NY AIGA, it drew a crowd of both students and working professionals. Six people were scheduled to talk on topics ranging from being creative everyday, to diversity in design, to killing your darlings (more on that later).
As a freshly minted designer (two years post-grad: heyyy) I was looking forward to soaking up some tips and tricks from some of the best in the area. Here are just a few of my favorite bits and pieces.
Ira Marcks, Illustrator
The effectiveness of an idea is dependent on the form it takes.
Creativity is the process of resolving an idea.
Ira Marcks, an illustrator hailing from Troy, began the evening with a talk about his recent book Creative Everyday (he also gave out copies of it – woot!). He brought up two topics that are near and dear to my heart. First, "The effectiveness of an idea is dependent on the FORM it takes." I can't stress this enough, everyone. You can have a beautiful design and waste it by not paying attention to how it's printed or how it's implemented. Medium is the message. A beautifully designed menu will be 10x more successful when printed on a high-quality paper than on the paper that usually clogs up the office paper shelves. Trust me. Invest in printing. Invest in presentation. Care about your work past the design stage. Actually, the finish should be part of your design stage – the final step, not a second thought.
For more on this, get yourself a copy of The Maker's Field Guide from Mohawk Paper (also given out at this talk). It's a beautiful reminder that paper and presentation matter.
Second, "Creativity is the process of resolving an idea". THIS IS SO IMPORTANT. I've heard it so many times, people think creativity is some magic little precious thing that only certain people are lucky enough to wield. Sure, creativity takes talent, but it's also a process. An at times long, drawn out process. It's work. Sometimes it's tough. Sometimes it's easier. But we creative types are problem solvers and thinkers, not wizards. Respect the process.
Jacques Bastien, Entrepreneur and Designer
There's more than one way of doing things, don't stagnate yourself.
Next up was Jacques Bastien, Founder of Boogie Agency and a successful entrepreneur. He focused on making it clear that while design is important, you can never forget about the business side of things. Whether you're managing yourself, or an entire agency, never forget that that means taking everything into consideration and maintaining good business practices. Also, it means working with people. And remembering that there are many ways to do things, don't stagnate yourself or hold yourself back by getting stuck in your own ways.
He shared an excellent little anecdote about this. Everyone in that room was from the Capital Region of N.Y. Living there, we know that there are many ways to get to NYC, the most popular one being I-87 South. But, there's also the Taconic State Parkway, Route 9, Amtrak, Greyhound…you get the picture – many different ways, all of which need to be taken into consideration.
Leah Rico, Diversity in Design
Diversity of experience, perspective, and creativity or thought
Inclusive gestures and actions
Design needs to keep innovating to solve problems
Designers are communicators and world-shapers
Diversity + Inclusion + Engagement
Celebrate, cultivate, connect
THE WORLD IS INTERCONNECTED
This is particularly relevant right now (anyone see that disastrous Pepsi Ad? Yeah, they could have used a talk with Leah.) Diversity in Design is becoming more and more a topic of discussion (and inclusion) in the design process. It's about damn time.
Amanda Magee, Principal, Trampoline Design
Kill Your Darlings (stay fresh, don't let anything become so cherished that it becomes boring and repetitive)
Let's Tarantino it.
REVISE. RETHINK.
Spellcheck yourself before you wreck yourself
Don't expect others to care about your work as much as you do
DON'T disregard your BUDGET
Maintain your standards
If something isn't working, change course. KILL IT.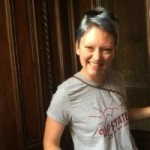 This post was written by Eden Loeffel, a graphic designer with Winstanley Partners, who also makes a mean croissant.