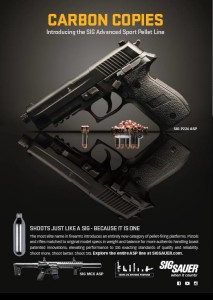 We're psyched to announce that we started a new partnership with SIG SAUER® this month, a firearms manufacturer headquartered in Newington, N.H.

As part of the collaboration, WP has been charged with the creation and implementation of various advertising strategies with a particular focus on SIG SAUER's Advanced Sport Pellet product line, just launched at 2015 SHOT Show, and Elite Performance ammunition. Winstanley Partners will provide a full suite of marketing materials, from web- and video content to print advertising and point-of-sale graphics.

SIG SAUER firearms are the weapons of choice for many members of the military and law enforcement around the world, as well as commercial users. In the U.S., nearly one in three law enforcement professionals use SIG SAUER firearms.