Jamie White-Farnham and Jaclyn Stevenson first met on a plane en route to Oxford University where they would study English Literature for the summer.
Sixteen years later, Jamie White-Farnham, Ph.D, and Jaclyn Stevenson – both alumna of Bridgewater State University with degrees in English, concentrating in Writing – have taken divergent career paths. White-Farnham is now Professor of Writing and Writing Program Coordinator at the University of Wisconsin, Superior, while Stevenson hangs out here, serving as director of Public Relations and Social Media for WP.
Through the power of communication trends – and their break-neck speed evolution – the two friends were able to join forces again, this time to create a project based in social media and networking for students engaged in White-Farnham's Business and Professional Writing course.
The duo planned the unit together, tasking students with creating social media proposals for small- to medium-sized businesses located in the Greater Superior region, ranging in industry from hospitality to manufacturing to retail.
In groups, students drafted interview scripts, met with representatives from each business, completed SWOT (Strengths, Weaknesses, Opportunities, and Threats) analyses to better assess the companies' needs in the social media space, wrote reports on these findings, and finally wrote social media proposals for the businesses with recommendations for next steps. At this stage, White-Farnham planned conducted a class via web-cam, so Stevenson could review each presentation with the students in real-time from her office in the Berkshires of Massachusetts.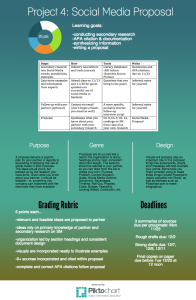 White-Farnham said the project was designed to teach several key writing skills including research, citation, synthesis of information, document design, and the clear presentation of relevant and feasible goals.
"The over-arching idea is to teach the steps necessary to formulate their own ideas, back those ideas up through research, and properly present and explain their ultimate plans to their business partners," she explained.
Stevenson added that, if implemented, the ideas the class proposed could have real impacts on how their partner businesses market and present themselves.
"From my view, this was much more than an exercise," she said. "These students are tackling very timely issues that most companies, especially small- to medium-sized businesses, are now facing when it comes to social media."
A manufacturing company that had recently expanded to offer international service, for instance, hoped to leverage social media to better identify new customers but struggled with time and budget constraints. By analyzing both the company's strengths and weaknesses, students suggested management start writing long-form blog posts with information about their products as one way to start this outreach, and repurpose them through social media to extend their reach.
Most organizations know they need to have an online presence on social networks, Stevenson noted, but social media changes so rapidly and offers so many options, it's difficult for business owners and managers to know where to start or how to keep momentum.
"In many ways, this project accomplished what my agency strives to do when entering a new client relationship," she said. "These are readily applicable skills, and it was exciting to be part of a college-level project that offered not just a strong educational component, but a wealth of benefits for the Superior business community."
Save
Save