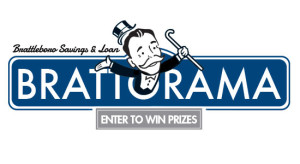 Brattleboro Savings & Loan became the first completely solar-powered bank in Vermont earlier this year, and followed that development just months later by opening a new location in Brattleboro.


To celebrate its new solar-powered branch, WP and
Brattleboro Savings & Loan
devised Brattorama, a community-based game that charged area residents with collecting game pieces from various businesses and adding them to a game board to win prizes.
More than 30 North End businesses have signed on as Brattorama partners, each with their own spot on the Brattorama game board and stickers that can be collected to win prizes ranging from gift certificates to a $1,000 Savings CD from BS&L.
"The North End is a key part of Brattleboro's business community," said Dan Yates, president and CEO of BS&L, "and we have a lot to celebrate with the opening of this new branch. Not only have we further expanded our solar footprint, but we're better positioned than ever before to serve all of the residents and businesses of the greater Brattleboro area."